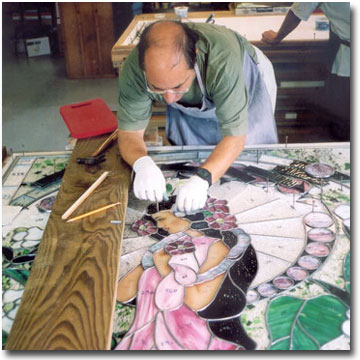 OUR DESIGN PROCESS
If you live on or are visiting the island of Oahu, Hawaii, the design process will begin by meeting with Annalee Jones, our designer and owner of the company. This can be in our studio or at the location where the final product will be installed. If you wish to see actual samples of our work, then you will want to visit the studio. However, for us to advise you regarding installation and glass selection to take best advantage of the light at the site, we will need to visit the site too.
At this first meeting, plan to have the following information available for discussion(approximations are ok at this early stage):
Size of the job
When it will be needed
Desired design content or style
Colors desired - clears, neutrals, pastels, natural, or bright colors
Visibility or obscurity desired
Light source - Direct sunlight and from what direction, Indirect sunlight, Artificial (fluorescent or incandescent)
We will provide pictures of prior installations and designs for you to peruse to help discover your preferences for style and design. This will enable us to design to your tastes. We do not charge for this first meeting. We can also provide you with approximate prices of past designs similar to what you may want, so a preliminary budget can be established. Understand, the final price cannot be quoted until the design is finished and glass selected. (See Pricing for more details)
If you do not reside on the island of Oahu, all of this can be accomplished through email and phone calls. Photos are available on this web site to help guide our discussions about your likes and dislikes, and glass samples can be mailed for a small fee. The finished product can be shipped, though there are extra charges for specialized crating, packing, and, of course, the shipping.
Once this first meeting has taken place,(virtual or actual) it may take 2 or 3 weeks for us to complete the design and call you to arrange a review meeting. We will present a color representation of the design(s) and show you glass samples that we recommend to use based upon the guidelines you gave us at the first meeting. Also, we will now have the price of the design. Of course, you can request changes to the design, the colors, and the glass selections at this point. But, be aware, changes may also change the price.
Once you approve the design, we will request a deposit in order to schedule your project for production and/or to reserve materials. Depending upon our backlog at that moment, we could complete your panel in as little as 3 or 4 weeks, but generally it is more like 6 weeks. If we have to order any special materials, production could be delayed until they arrive. We will also need to get exact measurements of the opening into which this panel(s) will be installed. If that opening does not yet exist, production may be delayed until it does exist and can be measured. In any case, we will do our very best to accommodate any scheduling requirements your project may have. In return, we ask that you start the design process 2 to 3 months before you need the finished product. Often we have projects confirmed 6 months before they are actually needed, so there is no such thing as planning too early.